On 12 December 1937 the United States gunboat USS Panay (PR-5) was sunk by aircraft of the Japanese Imperial Navy while anchored on the Yangtze River in China. Although probably unintentional, this attack exacerbated the already tense relationship between the Japanese and American governments. The sinking of the Panay constituted the most serious affront to the presence of American military forces in China, presented a very real challenge to the peaceful relations between the United States and the Empire of Japan, and provided the United States with proof positive as to the Japanese military's control over the development of Japanese foreign policy.
by Martin K A Morgan
THE PANAY INCIDENT AND THE INEVITABLE TUMBLE TOWARD WORLD WAR II IN THE PACIFIC
IN MEMORY OF THE ILL-FATED CRAFT PANAY AND HER CREW
'Beguiled by the rough mischievous waves and amid the din and turmoil of the battle, the heroes of the air, eager to chase the fleeing foe bombed, alas! by mistake, a ship not of the enemy but of the friendly neighbor country, which sank with a few sailors aboard.The source of the nation-wide grief, which knows no bounds, that fatal missile was.' (note presented to Ambassador Joseph Grew by a Japanese civilian).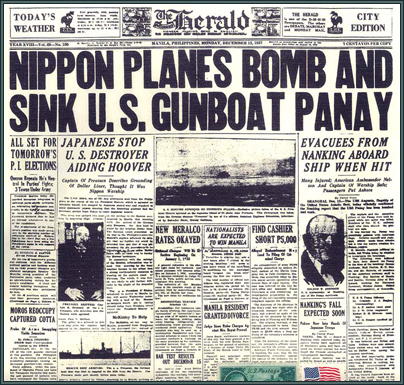 The USS Panay, a shallow draft gunboat designed specifically for riverine operations, displaced a mere 450 tons. Its armament consisted of only ten .30-cal. Lewis guns and a pair of 3 inch naval guns. River patrol craft by the very nature of their intended purpose are built under the restrictions imposed by the close quarters of their operating environment, and as a result are not very heavily armed. Eight vessels similar to the Panay made up the U.S. Navy's Yangtze Patrol. Command and control fell on the shoulders of Admiral Harry E. Yarnell, Commander-in- Chief of the United States Asiatic Fleet who directed the Yangtze Patrol from his flagship USS Luzon (PG-47). The need to post a contingent of U.S. Navy patrol craft on the Yangtze grew out of the need to protect American citizens and business interests in China. China had not long before been the home of organized bandit armies that struck with impunity in a constant search for plunder. For a short period of time Americans fell victim to these bandits and American businesses lost a great deal of money as a result, but the United States government quickly responded by creating the Yangtze Patrol. The program successfully eliminated the once threatening bandits. However, its role dramatically changed in 1937.



Read more