In 2018, the 36th edition of the annual walk, organized to honor the soldiers of the 82nd Airborne Division during the Battle of the Bulge, takes you to the sites of the 505th Parachute Infantry Regiment and the 551st Parachute Infantry Battalion.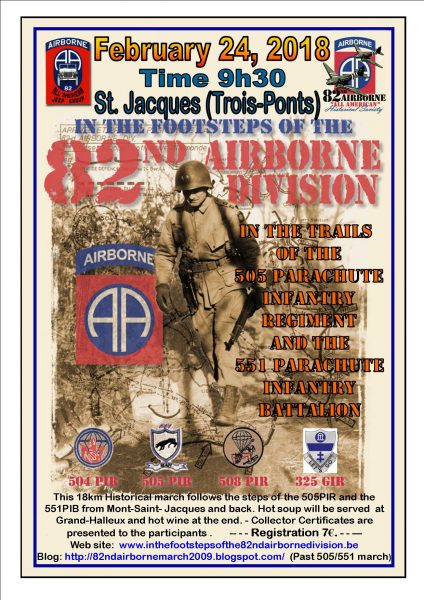 The march will take you to the Belgian towns of Fosse, Grand-Halleux, Dairomont and Rochelinval. Some 82nd Airborne Division's Veterans Families intend to come over to participate as well as several European re-enactment groups. The logistic support will be provided by WWII vehicles from the 82nd Airborne "All American" Jeep Group.", founder and organizer Emile Lacroix says.




When: February 24, 2018           Time: 09h30
Start/Address:  Restaurant Ferme Bodson – Mont Saint Jacques, 15 – 4980 Trois-Ponts
Distance: 18 Km (11 Miles)          Registration fee: 7 Euro pp
Info + Reservation Accommodations: Freddy Vanput via email: freddy.vanput@skynet.be            Phone: + 32 (0)495 427392
Website: www.inthefootstepsofthe82ndairbornedivision.be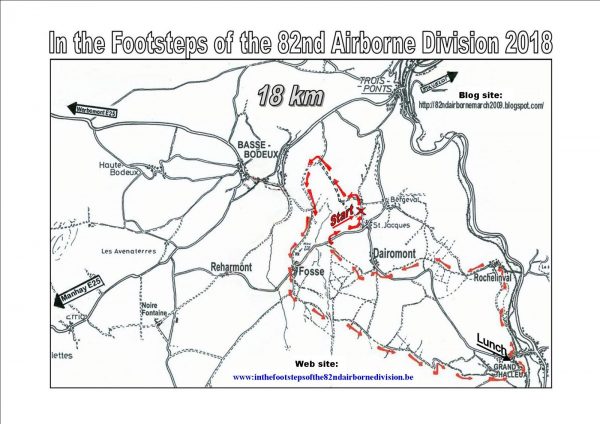 On December 16, 1944, the Germans launched a surprise offensive through the Ardennes Forest which caught the Allies completely by surprise. Two days later the 82nd joined the fighting and quickly blunted General Von Runstedt's northern penetration of the American lines.
Despite a lack of cold weather equipment once again airborne spirit, courage, and hard-nosed determination won the day as the 505th withstood the bleak winter and stopped the fanatic German attacks at St. Vith and the Salm River.




By the end of the war, the 505th was awarded three foreign distinguished unit citations: the French fourragère, the Netherlands Military Order of William, and the Belgium fourragère.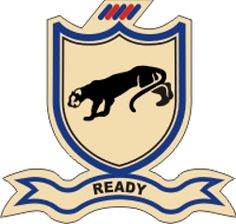 GOYA– Stands for 'Great Outstanding Young Americans' but there are other translations of GOYA known by the troopers themselves. The 551 PIB was activated in 1942 with 800 men and deactivated in 1945 when just 110 surviving men were absorbed into the 82nd Airborne Division. On 3 January 1945, the Battalion's Co A, under the command of Lt Durkee, launched one of the two bayonet charges performed by the US troops during the Battle of the Bulge.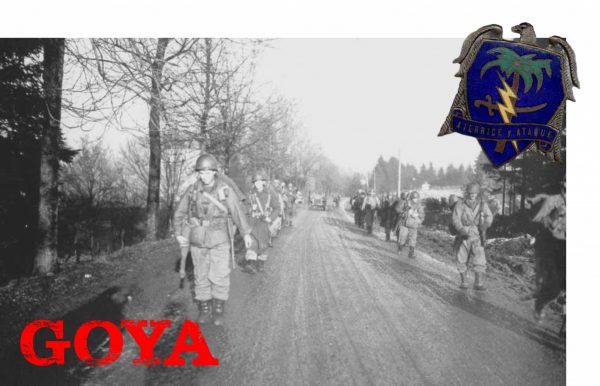 While victorious in capturing Rochelinval and eliminating the last German bridgehead for over 10 miles (16 km) on the Salm River, the unit was virtually decimated, having suffered more than 85% casualties. Relieved on 9 January 1945, of the 643 men who entered the battle on 3 January, only 14 Officers and 96 men remained. "Nowhere were casualties higher than in Lt Col Wood Joerg's (KIA in Rochelinval), 551st 'LOST' Battalion."