Adam Berry's new book, And Suddenly They Were Gone, is a remarkable addition to the collection of books about the history of the 82nd Airborne Division during the Second World War. It does an incredible job of filling a rather large gap in that history, which is the division's time spent in England prior to the invasion of Normandy and then again after the Normandy campaign until Operation Market Garden, the invasion of Holland.
by Phil Nordyke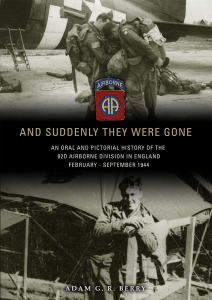 Virtually all other histories of the division and its units skim over these periods, mostly because no one until now has done the huge job of research to uncover this rich vein of untapped history until Mr. Berry's groundbreaking work.
The book itself is a feast for the eyes, chocked full of large high quality black and white and color photos, many of which have never been previously published. There are many photos of the troopers and the local civilians who both developed a such a great bond during the division's time spent in England. The book dedicates sections to cover each of the division's regiments and battalions' encampments around Leicester and Nottingham.
Mr. Berry has somehow found rare period photographs of the buildings used for headquarters, the pubs, the vast tent cities, and other significant landmarks for each of the encampments. High quality maps in the book orient the reader as to their locations. The book includes a section dedicated to the embarkation airfields, showing the division's troopers preparing for two combat jumps and glider assault missions. It also features amazing aerial photos taken during the war of the encampments and the embarkation airfields.
There is a superb section of the book of then and now photos of the encampments, training areas, and buildings. Throughout the book, Mr. Berry includes many first person accounts by veterans of the division and the local citizens recounting their experiences.



There are a myriad of other great features in this massive book, too numerous to mention. The readers of this excellent book will be taken on a visual time travel back to that time and continually surprised with new information that is skillfully woven through this great book. And Suddenly They Were Gone is an absolute must have for readers of the history of the 82nd Airborne Division and no collection of books about the division will be complete without this tremendous work.

More from Adam Berry: