In breaking through the encirclement on 26 December 1944 the US 4th Armored Division managed to relieve pressure on the beleaguered American forces in and around the Belgian town of Bastogne – and in doing so changed the dynamic from defense to offense.
By Reg Jans



Forming the extreme western flank of General Patton's Third Army, six divisions were  employed successfully to envelope and pushback the enemy armor and infantry. Supported by 35th Infantry and 4th Armored – the 6th Armored Division (aka the Super Sixth) covered the eastern edge of Bastogne while the 17th Airborne Division formed the battling flank of 11th Armored and 87th Infantry Division's western perimeter. In order to claw back the Bulge from the German's, General Patton directed his divisions to a rally point at Houffalize in order to link up with General Courtney Hodges' First Army who were at that time advancing from the north and west.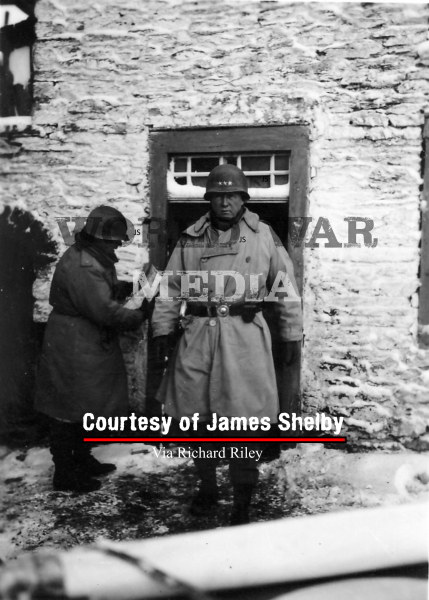 During this period, Patton made several scouting trips, mostly under cover of darkness, into the area and officially visited Bastogne twice (30 December 1944 & 7 January 1945) primarily to conduct a small number of award ceremonies but also to be briefed by the acting Divisional Commanders.
In late January, twenty-eight year old sergeant James Shelby from the 17th Airborne Divisional Headquarters witnessed 'Old Blood and Guts!' entering the farmhouse CP in Compogne (North of Bastogne) in search of one of his NCOs. Not about to miss this golden opportunity, Jim whipped out his camera and in true "paparazzi-style" quickly began to look for a suitable angle. As Patton came out of the building, Shelby was right there to capture the scene with a single click of his shutter. Clearly surprised by Shelby's "off the cuff" action, Patton walked straight up and stood nose to nose with him. Completely overwhelmed, Jim brought himself to "attention" but still clutching the camera, could not stop his hands from trembling.



In a stern high-pitched voice George Patton petulantly demanded: "What are you going to do with that photo?"
Now shaking uncontrollably, Shelby nervously replied: "I'm going to frame and hang it on my living room wall……SIR!"
After a moment of inconvenient silence, still standing nose to nose, Patton looked Jim straight in the eye and laughed, "GOOD BOY" before turning and heading on his way.
James Shelby and his family are still very proud of that photo which has never and probably will never be published. However, a few years ago the Patton family was delighted to receive a copy of this unique portrait from the Shelby's. Both families agree that this wonderful unofficial snapshot somehow managed to capture the great man in arguably his finest hour.