Lt Col. Cole parachuted into Normandy with his unit (Third Battalion of the 502 Parachute Infantry Regiment, 101 Airborne Division)  in Normandy. By the evening of June 6, he had gathered 75 men. They captured Exit 3 at Saint-Martin-de-Varreville behind Utah Beach and were at the dune line to welcome men from the U.S. 4th Infantry Division coming ashore. After being in division reserve, Cole's battalion had guarded the right flank of the 101st Airborne Division attempts to take the approaches to Carentan.




On the afternoon of June 10, Cole led 400 men of his battalion single file down a long, exposed causeway  now knpwn as Purple Heart Lane, with marshes at either side. A hedgerow behind a large farmhouse (Ignouf Farm) on the right was occupied by well dug-in German troops. At the far end of the causeway was the last of four bridges over the Douve River flood plain. Beyond the last bridge was Carentan, which the 101st had been ordered to seize to effect a linkup with the 29th Infantry Division coming off Omaha Beach.
During the advance Cole's battalion was subjected to continuous fire from artillery, machine guns and mortars. Cole's battalion, advancing slowly by crawling or crouching, took numerous casualties. The survivors huddled against the bank on the far side of the causeway. An obstacle known as a Belgian gate blocked nearly the entire roadway over the last bridge, allowing the passage of only one man at a time. Attempts to force this bottleneck were futile, and the battalion took up defensive positions for the night.
During the night, Cole's men were exposed to shelling by German mortars and by a strafing and bombing attack by two aircraft, causing further casualties and knocking Company I out of the fight. However the fire from the farm slackened and the remaining 265 men infiltrated through the obstacle and took up positions for an assault.
With the Germans still resisting any attempt to move beyond the bridges, and after artillery failed to suppress their fire, Cole called for smoke on the dug-in Germans and ordered a bayonet charge, a rarity in World War II. He charged toward the hedgerow, leading only a small portion of his unit at first. The remainder of the battalion, seeing what was happening followed as Cole led the paratroopers into the hedgerows, engaging at close range and with bayonets in hand-to-hand combat. The German survivors retreated, taking more casualties as they ran away.



Lt Col Cole was killed in action on 18 September 1944 during the first day of Operation Market Garden near the Dutch town of Best.  Posthumously, Cole was awarded with the Medal of Honor.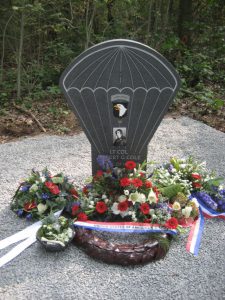 [read more="Click here to Read More" less="Read Less"]
Citation:
For gallantry and intrepidity at the risk of his own life, above and beyond the call of duty on 11 June 1944, in France. Lt. Col. Cole was personally leading his battalion in forcing the last 4 bridges on the road to Carentan when his entire unit was suddenly pinned to the ground by intense and withering enemy rifle, machinegun, mortar, and artillery fire placed upon them from well-prepared and heavily fortified positions within 150 yards of the foremost elements. After the devastating and unceasing enemy fire had for over 1 hour prevented any move and inflicted numerous casualties, Lt. Col. Cole, observing this almost hopeless situation, courageously issued orders to assault the enemy positions with fixed bayonets. With utter disregard for his own safety and completely ignoring the enemy fire, he rose to his feet in front of his battalion and with drawn pistol shouted to his men to follow him in the assault. Catching up a fallen man's rifle and bayonet, he charged on and led the remnants of his battalion across the bullet-swept open ground and into the enemy position. His heroic and valiant action in so inspiring his men resulted in the complete establishment of our bridgehead across the Douve River. The cool fearlessness, personal bravery, and outstanding leadership displayed by Lieutenant Colonel Cole reflect great credit upon himself and are worthy of the highest praise in the military service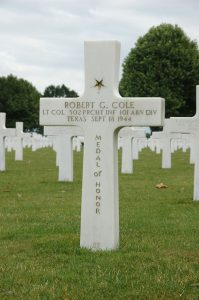 [/read]