With food being scarce during the Siege of Bastogne the defenders of the battered bastion instinctively searched for alternatives to fill their aching stomachs.  However, one of these famished men was unable to eat his meal until sixty-four years later.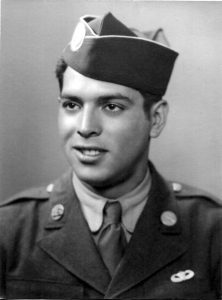 It was a tough winter back in 1944. Almost starving and enduring hypothermia made it nearly impossible for the men of Five-O-Deuce (502 Parachute Infantry Regiment, 101st Airborne Division) to make a stand against the ongoing German attacks and artillery fire. Along with his buddies from B-Company, bazooka-man Amos J. Almeida tried to get comfortable in his trench, just north of the Church at Champs, an outpost to Bastogne.
"The cold was killing us and the lack of food didn't make it any better.", he said. " Then I witnessed an eluded pig being killed by a shell fragment." (Amos later admitted the pig was shot by a ravenous G.I.). As hungry as a horse, Almeida sprinted toward the dead animal and cut a large piece of  meat out of it with his trench-knife.
"I couldn't use it right away", he recalled, "I needed to let it rest before I could cook it and eat it. So I hung it on a fence post, next to my  foxhole.". Shortly thereafter Amos was called out to collect some bazooka-ammo south of the village. With shells strapped to his chest and back he returned to his former position an made a terrible discovery. The meat was gone. "Some slick B*****D, stole my food!".



Read more