On June 6, 2017, at the Normandy town of Arromanches-Les-Bains, British WWII veterans receive a heart-warming and well-deserved welcome from the crowd. Most of the veterans came ashore on Juno, Sword or Gold Beach on or around D-Day, seventy-three years ago.




Arromanches-les-Bains
Arromanches is remembered as a historic place of the Normandy landings and in particular as the place where an artificial port was installed. This artificial port allowed the disembarkation of 9,000 tons of material per day.
It was on the beach of Arromanches that, during the Invasion of Normandy immediately after D-Day, the Allies established an artificial temporary harbour to allow the unloading of heavy equipment without waiting for the conquest of deep water ports such as Le Havre or Cherbourg. Although at the centre of the Gold Beach landing zone, Arromanches was spared the brunt of the fighting on D-Day so the installation and operation of the port could proceed as quickly as possible without damaging the beach and destroying surrounding lines of communication. The port was commissioned on 14 June 1944.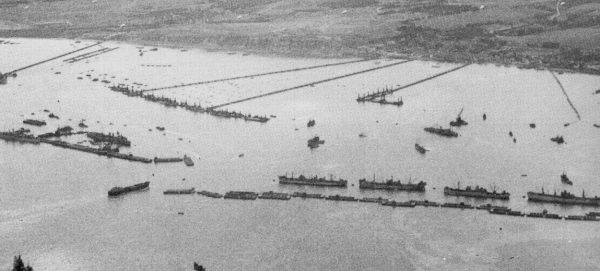 This location was one of two sites chosen to establish the necessary port facilities to unload quantities of supplies and troops needed for the invasion during June 1944, the other was built further West at Omaha Beach. The British built huge floating concrete caissons which, after being towed from England, then had to be assembled to form walls and piers forming and defining the artificial port called the Mulberry harbour. These comprised pontoons linked to the land by floating roadways. One of these ports was assembled at Arromanches and even today sections of the Mulberry harbour still remain with huge concrete blocks sitting on the sand and more can be seen further out at sea.
Some key figures: by 12 June 1944 more than 300,000 men, 54,000 vehicles, 104,000 tons of supplies had been landed. During 100 days of operation of the port 2.5 million men, 500,000 vehicles, and 4 million tons of material were landed. The best performance of the port was in the last week of July 1944: during those seven days the traffic through Arromanches exceeded 136,000 tons or 20,000 tons per day.